How to stop dogs digging in your yard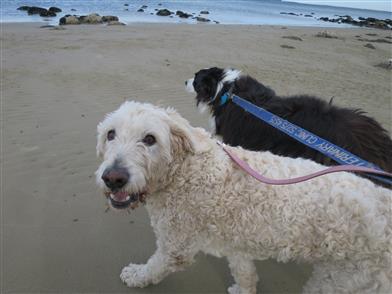 The previous article we looked at reasons why dogs dig.
We focused on breeds that were bred to dig such as terriers. These are the group of dog that were bred for centuries to find prey underground and dig them out, and kill or capture them for their owner.
BUT almost all dogs, even those without particularly strong paws or legs built for digging, will give digging a go to get at a rat or similar prey around the home. THEY ALL have prey drive.
It is also common for almost all dogs to bury bones for later when they aren't particularly hungry. They bury because they don't know when you will feed them next Burying has the dual action o concealing vital food for them, and decomposing it for eating easier.
When dogs digging is classed as a problem
Digging too often, too large, and in inappropriate places (as decided by the owner).
When it is just for attention seeking (like jumping up on a person)
When it is from boredom and may lead to other mental issues
If the digging is to make a soft bed, or to get prey, or because the recent manure pile smells good, this is a problem, but more than the dogs it is your problem, not their fault, they are programmed and it is natural, get over it.
MANY OFF LEAD RUNS BURN excess DOG ENERGY
Every dog should have at least one large off lead run per day. For socialisation, for burning energy, for using mental energy, or helping blood circulation, for being a dog.
If a dog has too much energy and is bored they will find a release by escaping, digging or barking. You choose which one you are willing to put up with if you can't be bothered being a responsible dog owner.
CHANGE BONES FOR OTHER TREATS OR TOYS
Bones are almost always buried if left around for long enough. Its a primal dog instinct that you should not try and change. Change you own behaviour by giving a dog a bone that it can mostly eat the meat off of, not just a big hard bone with no nutritional value.
Or give them hard jerky or pig skin based treats – rawhide treats have recently been found to cause intestinal obstructions and should be avoided.
DOG PROOF YOUR YARD – FENCE YOUR GARDEN OR HOUSE
This doesn't mean crating your dog for long periods or tying them up. These restrictions are illegal in many states or should be. if you have prized plants that the dog likes to eat or dig, put up a dog proof fence that will not harm them if they try and dig around it.
DOG PROOF YOUR YARD FENCES
Some people put cement under the fence boards of your major fences or chicken wire – but this can cause your dog to keep digging and get bloody paws.
DOG TRAIN YOUR DOG
Some people recommend spraying your dog with a citrus and water solution to give negative feedback to your dog. Many dogs don't like this, but some dogs will have their bond broken with you if you do bad things to tour dog Consider what the goal is and possible consequences before using negative methods.
Other people place bad smelling things (that a dog doesn't like the smell of) in the places you want the dog to keep away from. If this is outside you will have to keep replacing the scent as it rains. If inside you may not like the smell. This an really annoy a dog that lives by their extremely good scent and can cause other psychological damage. Be careful.
CONCLUSION
A well adjusted, social adult dog does very little digging in their own yard unless you have a vermin problem. That even goes for terrier breeds of dogs.
Take your dog regularly for long walks let them socialise with their own kind and most digging issues minimize or go away.