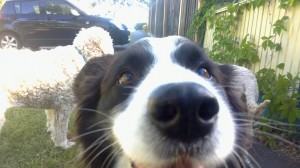 DOG TRAINING COURSES
Dog training has many facets & dog training courses online or in the flesh can vary dramatically. It is also known as dog obedience training & usually involves changing a dog's behavior to a level that the owner is happy with. This site will mostly consider the best dog training for domestic/ companion dogs, not professional dog training or guard dog training applications.
Note, strictly speaking, top dog training and dog obedience include dogs following a voice or hand command by the owner within a given time. They do not include socialisation or getting a dog's behavior balanced. These are very different things, but things that are as important if not more important than having a 100% trained dog, that you can't take anywhere. Our site will discuss the many techniques of dog training online, but will also advise on having a dog that will 'play nicely' with dogs and humans!
You will quickly find that the best dog training you can get is the one that trains your dog to the level that you are happy with and can afford.
THE BEST DOG TREATS ARE NATURAL DOG TREATS
That might seem like a very obvious statement, however 99% of brands out there are full of very unnatural chemicals. READ the ingredients list, ask questions!
Through our articles you will quickly find that the Best Treats for Dogs that you can get are meat based, and have natural amounts of other nutrients in them. The reason that Dog treats are mentioned at all in this site is that one of the main things that professionals and general dog owners use to successfully train their dogs is dog Training Treats.
Cheap dog treats can be ok, as long as they are natural, healthy and fit for purpose. This site will explore the multitude of dog training treats that are appropriate for you to use in training sessions. We will discuss how to incorporate them properly into you and your dog's life!
CAT TRAINING & BEING A CAT WHISPERER
This part of this site could just as easily be called Cats 101. You may wonder why cats are included on a dog site or vice versa, and its for the very simple reason that many people who own dogs, also own cats.
While cats tend to be very independent hence the term 'as easy as herding cats', it is possible with the right techniques to get a cat to do many things for you, including cat tricks. That is why there is a separate category on this site just for cat training and cat lovers!
Cat toilet training is a very important part of training your cat, so of course we have articles on that.
 Please choose the dog or cat category and away you go. If you have something that I need to know .. please contact me using the Contact page form ..